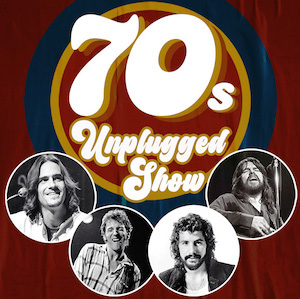 Show 1 - The 70's UnPlugged Band Show. 
This 4 piece band show celebrates the music, lives and stories of James Taylor, Cat Stevens, Bob Seger and Bruce Springsteen. Utilising over 40 videos, a great band and Nik's top class performance, this is the years "Premier" unplugged show. 
Ideal as a dinner show or in theatre mode.
Show 2 - The 70's Unplugged Solo Show. 
Featuring the same artists celebrated in the band show, this intimate version of the show is performed solo by Nik Phillips, with a full show production. 
Ideal as a dinner show or in theatre mode.
Show 3 - The 70's Unplugged Show Volume 2 - 
"Australia verse the World". 
This energetic acoustic solo show sees one hour of the best 70's Unplugged songwriter music produced from around the world, pitted against a second hour of music from
Australian artists. Artists such as Harry Chapin, Cat Stevens, Neil Young, John Denver, Neil Diamond, Don McClean and more, take on the likes of Billy Thorpe, Brian Cadd, The Angels, Cold Chisel and more. 
Featuring rare videos and stories. 
Ideal for any live venue, private or corporate event.
SHOW 4 - THE DUET SHOW
Performed by Nik Phillips and Angie Whitely, this one hour show celebrates some of the greatest duets of all times. Featuring songs from the Everly Brothers, Grease right through to Ed Sheeran and Beyonce, this is a timeless show. 
Performed with backing tracks or with a full band, the show is ideal for all venues, private and corporate events.
SHOW 5 - TUFFY AND NIK SHOW
Back in the 90's Tuffy and Nik Phillips were the ultimate beer garden and pub performers across SEQ. It was a time when the venues were full and everyone knew Tuffy and Nik. 
Their acoustic duo show brings back great times and great memories of what a good sing along pub session was all about. 
Ideal as a Sunday Session or private/corporate event.
SHOW 6 - NORTHERN RIVERS CHILD
This one hour solo acoustic show features music of Nik's 8 albums/CDs. It is an intimate experience built around many stories that have made up Nik's career. 
In the words of legendary music journalist Glenn A Baker "Simply put, Nik Phillips is one of Australia's most impressive singer-songwriters". 
Ideal as a dinner show or in theatre mode.
Show 7 - Standard Solo Show. 
With 100's of songs up his sleeve, Nik can perform a show at any venue for any occasion. From sports bar to theatre, Nik is a versatile, highly experienced artist who can cater for all audiences.